Cr25 Wear Resistant Parts Manufacturer
Wear resistant parts
product: Wear resistant parts
Material: Cr25
Standard: ASTM
Casting Method: Sand casting
Dimension tolerance: ±0.1
Minimum order quantity: 6 pieces
Hardness: 50/ 60 HRC
Delivery time: 7-30 days/ negotiation
Logo: Customized
Specification: as customer′s request
Surface Roughness: According to Drawings
Port: Shanghai
Transport Package: Plywood Case or according to customer requirements
Payment Terms: L/C, T/T, Western Union, Paypal
Wear resistant parts a huge role in the crusher industry now, it is very helpful for us to improve work efficiency and skill level.
Wear resistant parts are cleaned, sandblasted with a nice surface without any obvious visual defects. That can avoid the normal working of the castings.

Our Photos for Wear resistant parts :
High Chrome White Iron Series
High Chrome white iron we can produce include 15%Cr, 18%Cr, 20%Cr and 26%Cr.
Under same working condition,the wear performance of High Chrome mill liners is four times of that of high manganese steel liners and twice of that of low Chrome alloy steel liners.
Meanwhile, we can produce high Chrome castings as per AS2027, ASTM A532 and BS4844.
Wear resistant parts:
Depending on the specific working conditions,all wear parts can be ordered as Manganese Steel, high Cr cast iron or Cr-Mo Alloy Steel.
So far, We have supplied Wear resistant parts for SAG mills and AG mills to some mines in Australia and New Zealand.
The capabilities of our factory:
Our foundry has complete melting, heat treatment and test equipments,such as mid-frequency induction electrical furnaces,quenching and tempering furnaces, blast shot,spectrometer,Rockwell and Brinell Hardness tester,impactor,UT tester and metallographic microscope.
High Cr white iron :
ISO 21988/JN/
HBW
C
Si
Mn
P
s
Cr
Ni
Mo
Cu
HBW555XCr13
555
1.8-3.6
1
0.5-1.5
0.08
0.08
11-14
2
3
1.2
HBW555XCr16
555
1.8-3.6
1
0.5-1.5
0.08
0.08
14-18
2
3
1.2
HBW555XCr21
555
1.8-3.6
1
0.5-1.5
0.08
0.08
18-23
2
3
1.2
HBW555XCr27
555
1.8-3.6
1
0.5-1.5
0.08
0.08
23-30
2
3
1.2
HBW600XCr35
600
3.0-5.5
1
1.0-3.0
0.06
0.06
30-40
1
1.5
1.2
HBW600XCr20Mo2Cu
600
3.0-5.5
1
1
0.06
0.06
18-21
1
1.4-2.0
0.8-1.2
Feedback form contact with us
Related Product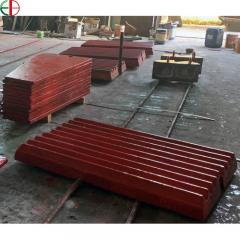 Customization Swing Jaw Plate for Sale
Swing Jaw Plate Product Type: Jaw Crusher Parts Product Name: Swing Jaw Plate Machine Type: Jaw Crusher, Stone Crusher Usage: Jaw Crusher Wear Parts Condition: New Drawing: Original/ Customized ...
Learn More>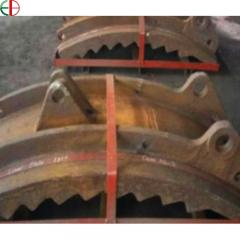 Mn13Cr2 Casting
Mn13Cr2 Casting Product Type: Mn13Cr2 Casting Hardness: about HB300 Production Process: Sand Process Size Tolerance: as per CT13 Surface Finish: Appro.Ra100 Material Grade: ASTM A128 Grade C, AS2074 H1D Material Group: ASTM A128 Grade C, Mn1...
Learn More>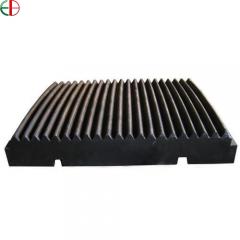 Crusher Jaw Plate for Sale
Crusher Jaw Plate for Sale Jaw plate size: Customize MOQ: 2pcs Condition: New Usage: Ore mining Material: High Manganese Steel Certification: AISI, ISO Type: Jaw Plate / Crusher Plate Machine Type: crusher / Jaw crusher Applicable Industries: Energy & Mining Man...
Learn More>