Composite Liners for SAG Mill Lining
Composite Liners for SAG Mill
Mill Type: SAG Mill, AG Mill
Material: Cr Mo Alloy Steel, High Manganese Steel
Application: SAG Mill Liners for Discharge Grate
Grade: AS2074 L2A/L2B/AS2074 L2C
Microstructure: Pearlitical
Hardness: ≥HRC50
Impact value: about 60J without nortch test bar
Size Tolerance: as per CT13
Surface Finish: Appro.Ra100
Dimensions: According to customer drawings
Process: Sand Cast Process
Minimum order quantity: 2 pieces
Lead Time: Est. Time(days) 7-19 To be negotiated
Supply Ability: 40000 Ton/Tons per Year
Port: Shanghai Port
High strength, high toughness:
In the quenching process of the high manganese steel liner, the special dual-medium quenching agent with good thermal stability is used as the medium to make the product achieve the combination of high strength, high hardness and high toughness to meet the technical requirements of wear resistance
High cost performance, strong adaptability:
The high manganese steel liner is processed by advanced technology. It has the characteristics of high quenching hardness and high toughness value, so that the high manganese steel liner has good wear resistance. Compared with the ordinary liner, the high manganese steel liner performs Outstanding price-performance ratio. It can adapt to mine wet grinding, dry grinding, mixed grinding, etc.
Our Photo for SAG Mill Composite Lining:
Item
Cr-Mo Alloy Steel Ⅰ
Cr-Mo Alloy Steel Ⅱ
Cr-Mo Alloy Steel Ⅲ
C
0.3-0.5
0.65-0.90
0.4-0.9
Si
0.15-1.20
≤0.75
0.7-1.2
Mn
0.4-1.2
0.5-1.2
0.6-1.0
Cr
1.7-2.5
1.5-2.5
4.0-7.0
S
≤0.04
≤0.06
≤0.04
P
≤0.04
≤0.06
≤0.06
Mo
≤0.5
≤0.5
≤0.15
Cu
0.1-0.6
≤0.25
0.2-0.4
Ni
≤0.5
≤0.3
0-0.3
Re
≤0.02
≤0.02
≤0.02
Equivalent
DL/T 681-1999
AS2074L2B Mod
DL/T 681-1999
Specification
GB/T26651-2011
Material Type
Martensite Steel
Martensite or Pearlitic
Martensite Steel
Cr Mo Steel
Hardness
HRC≥48
HB470&HB321-370
HRC≥50
Impact Value
AK≥40J
–
AK≥10J

Feedback form contact with us
Related Product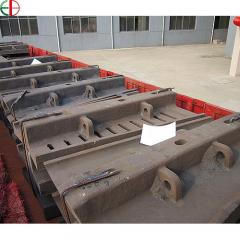 AG Mill Liners Use High Manganese Steel Material
High Manganese Steel AG Mill Liners Mill Type: AG Mill Hardness: HB310-400 Surface Finish: Ra100 Size Tolerance: as per CT13 Application: AG Mill / SAG Mill Material: Cr Mo Alloy Steel, High Manganese Steel Microstructure: Pearlitical Hardness: HRC32-56 Material Grade: AS20...
Learn More>